Rain Drop Farms
Philomath, Oregon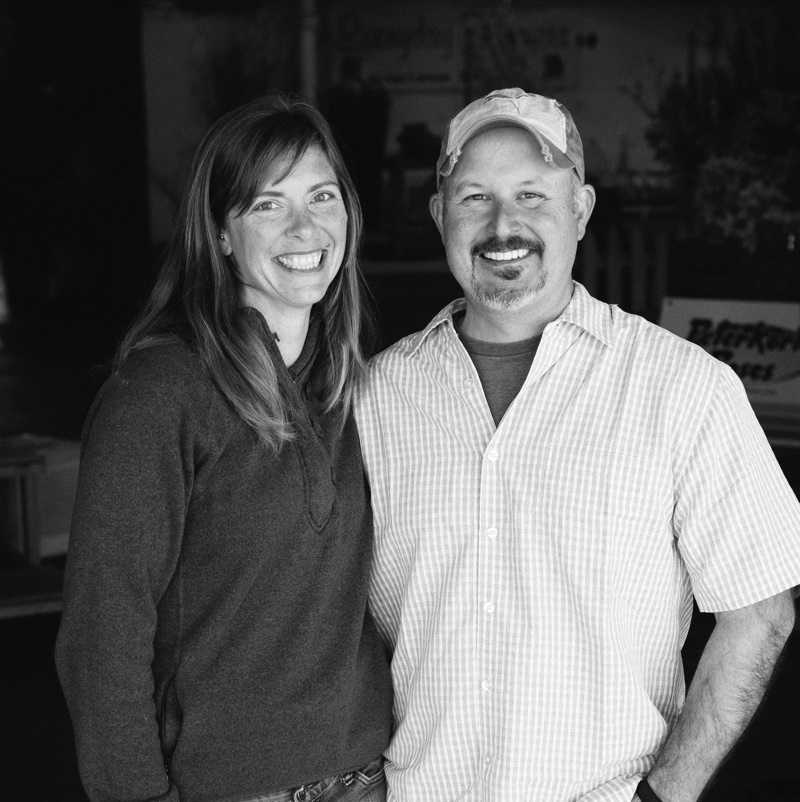 | | |
| --- | --- |
| OWNERS | Erin McMullen and Aaron Gaskey |
| ACREAGE | 6 acres |
| CROPS | Dahlias, sunflowers, snapdragons, lisianthus, garden roses, zinnias, cosmos, and multi-purpose crops like sedum, seasonal greens and other perennial crops that can be used at different stages |
| FOLLOW | Rain Drop Farms , @raindropfarms |
| | |
Our Story
Erin started out growing veggies after working on an organic farm in 1999 while still in college. She developed a passion for plants and never looked back.  "Flowers proved to be far more interesting and challenging than veggies, and I can't say no to a challenge!"
Erin met (the other) Aaron in 1996 and started looking for a property to farm in 2000. They found their farm and home in 2002, 9 miles from Corvallis in Philomath, nestled up on a hillside and surrounded by tall fir trees.
The property was reclaimed from a clear cut after having been abandoned for two years. The site has been developed slowly, one small section at a time, as they have spent hundreds of hours clearing invasive species, branches and slash. Situated on a hillside, the property has its own unique challenges, like hauling buckets full of flowers up a hill, and lends itself to niche plantings, like a hellebore forest.  
Half of the farm is under cultivation, including five hoop houses, three propagation greenhouses and over 10,000 field dahlias. Close relationships with their neighbors have allowed them to expand their growing area by 4 acres.
Erin handles crop planning, selection, marketing and design, and Aaron does the trucking and anything and everything on the farm.
Over the course of 19 years, Erin and Aaron have grown their farm and their family. They have two sons: Emmitt (age 11) and Cedric (age 8) and they help around the farm washing buckets, and reminding their parents to take a break already! Flower farming allows Erin and Aaron to show their children what hard work and passion can do.
Growing Practices
Erin and Aaron cultivate their flowers using organic and sustainable practices, and believe that as stewards of the land, they have a responsibility to nurture the plants and animals on their property. As growers and parents, Erin and Aaron have a deep respect for the beautiful place they call home and want to pass that along to their children.